Mark Frost;

Publisher: Avon (September 1, 1993)
"The prospect that I've met my match in the exercise of observational deduction brings my competitive tendencies racing to the fore."
"How will I know these are legitimate inferences and not facts you've gathered by some covert means [said Doyle]?"
"You won't," said Sparks, flashing his grin again. "You were born in Edinburgh, Catholic parents of Irish descent and modest means. You fished and hunted extensively in youth. You were educated in Jesuit parochial schools. Your lifelong passions have been literature and medicine. You attended medical school at the
University
of
Edinburgh
, where you studied under an inspirational professor who encouraged you to develop your powers of observation and deduction beyond the scope of their diagnostic application. Despite your medical training, you have never relinquished your dream of one day making your living exclusively as a man of letters. Despite your indoctrination into the Church of Rome, you renounced your family's faith after attending séances and encountering experiences to difficult to reconcile with an adherence to any religious dogma. You now consider yourself a confirmed, albeit open-minded, agnostic. You are very handy with a revolver…" (94).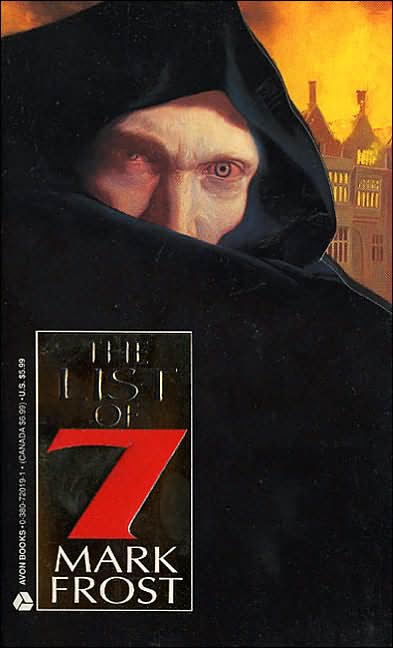 You cannot, however, read The List of Seven by Mark Frost without knowing immediately that it is a different breed of Sherlockian novel; this is not entirely surprising, considering that Frost was also one of the scriptwriters for Twin Peaks—an entirely different breed of television show. Frost's screenwriting talents are apparent in the book's narration. There is a unique cinematographic quality in the way Frost sets a scene and the way he narrates a conflict. His settings are vivid, his dialogue is crisp and fluid, and his characters are alive.
Frost presents another pastiche where Doyle is solving crime, but this one is different. Doyle is not playing a carbon copy of his famous doctor, and Dr. Bell is nowhere in sight. Doyle plays opposite Jack Sparks, a charming, athletic, ascetic Special Agent for the Crown, who on first glance seems to be the obvious template for the character-who-will-be-Sherlock-Holmes, but it's not that simple. Jack Sparks is no Sherlock Holmes, and Doyle is no Dr. Watson. Although every character in Frost's novel seems to prefigure some character to come (you may occasionally find yourself muttering, "I see what you did there, Mr. Frost!"), you would do yourself a disservice by trying to force them into predetermined molds. You would miss the qualities that make each character unique and enjoyable in his own right.
Doyle meets Jack Sparks for the first time on Christmas Day,1884. His presence has been requested at a séance "as a man of God and science" (3). Outside the building, before the séance, Doyle quickly and efficiently sizes up the situation and each of its participants (in "Sherlockian" fashion), and we get our first glimpse of the man that Frost imagines Doyle to be. Inside the building, during the séance, events take a horrible, tragic turn, and Sparks bursts onto the page for the first time (although he initially introduces himself as Armond Sacker). His manner is less reminiscent of Sherlock Holmes than it is of Robin Hood and Zorro, with some James Bond thrown in for good measure—turning over tables, crashing through doors, and leaping onto moving carriages.
Sparks is more special agent than detective, and Doyle is more detective than doctor, but the one thing that they have in common is that they are matched mentally, able to deduce: "[b]y a man's finger-nails, by his coat-sleeve, by his boots, by his trouser-knees, by the callosities of his forefinger and thumb, by his expression, by his shirt-cuffs—by each of these things a man's calling is plainly revealed." (STUD). And they need all their abilities, because the mystery in which they have found themselves mired is more than a bit complex…it is equal parts supernatural adventure, political conspiracy, and historical thriller, with a little bit of family drama thrown in for extra spice. And you never once find yourself wondering if Sherlock Holmes could have done it better.
There are similarities here to the characters and tales that Arthur Conan Doyle will eventually pen, and there is no use denying it. There are Larry and Barry, the identical twins, once criminals, but now fiercely loyal to Sparks and his work. There's a bit of the Irregulars in their rough, streetwise ways. And there is also Eileen Temple, a beautiful actress with the Manchester Players—that's certainly the shadow of Irene Adler behind her.
Sparks
even has his own version of The Index (which he refers to as "The Brain"), that contains index cards with biographical information on every known criminal (but is written in an obscure code of
Sparks
's own devising).
And as for Jack Sparks himself, he plays the violin, smokes a pipe, and uses a magnifying glass. He lives on Montague Street in a townhouse full of strange things (including a large "Baskervillian" hound named Zeus). He uses cocaine. And the entire plot of the novel hinges on Sparks's archenemy, his brother, the malevolent Alexander Sparks (fans of the 2010 BBC adaptation are chuckling knowingly here), who is every bit as terrifying, vicious, manipulative, and scheming as Professor Moriarty, if not more so. But none of these things suddenly turns Jack Sparks into Sherlock Holmes.
Sparks tells Doyle, "I made a sweet, simple fool out of myself," (156) as he describes his brother's earliest machinations. Sparks tells a long story, full of details about his childhood and family, his history and choices. It is melancholy and heartbreaking. Sparks is describing himself as a young boy, understandably unable to see through his much older brother's designs, and it's difficult to ever imagine Sherlock Holmes in the same position—describing himself as "a sweet, simple fool," no matter what his age or the circumstances. But that's also the crux of the matter—Sherlock Holmes would never speak about himself. Details about Holmes's early life are few and far between, and seem practically wrenched from Holmes's unwilling hands by Dr. Watson (GLOR, MUSG). After 401 pages of The List of Seven, you walk away feeling as if you know Jack Sparks, at least a little bit. On the other hand, after 56 short stories and four novels, you wonder if you can ever know Sherlock Holmes at all. That's the dividing line; that's what prevents Jack Sparks from ever being Sherlock Holmes. But that is a good thing, too, because he becomes his own character, rich and nuanced, and not a cardboard parody of another.
Frost has written a sequel to The List of Seven, The Six Messiahs, which manages to be one of those rare books that is both a continuation of the original story and an entirely new tale in its own right. Learn more about these works and the author at Frost's website.
You have one more day to enter my contest! Entries are accepted until 11:59 p.m. EST on March 26. At that time, a random winner will be chosen.
Many thanks to Laura for her wonderful edits to this week's blog post. My usual editor is off gallivanting in the Vegas desert, and Laura very kindly volunteered to help me this week. And she did a fantastic job (especially with a terrible comma-abuser like me)!