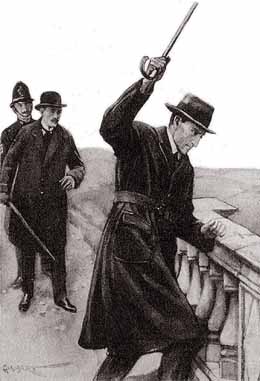 As part of an ongoing project on my Twitter feed, I'm delivering stories from the Sherlock Holmes canon in tiny installments of 140 characters or less. On Tuesday, I finished up "The Adventure of the Crooked Man," and I hope everyone enjoyed meeting "Teddy," and learning the true meaning behind Mrs. Barclay's cryptic reproach.
The current story is "The Problem of Thor Bridge," which begins with the list of Dr. Watson's unpublished cases, housed in the mysterious tin dispatch-box at Cox and Co., at Charing Cross, which has intrigued writers of Sherlock Holmes pastiches for many years.
Check out my Twitter feed for a daily installment, although I am usually inspired to post more than once a day. And don't forget that you can read through the original canon stories online.