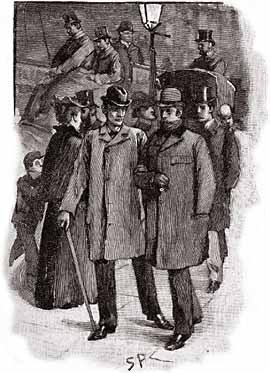 As part of an ongoing project on my Twitter feed, I'm delivering stories from the Sherlock Holmes canon in tiny installments of 140 characters or less. I recently finished up
"The Reigate Puzzle

" (or "

The Reigate Squires

," as you may be accustomed to calling it). The story opens with Dr. Watson arriving at Sherlock Holmes's side "...at a time when Europe was ringing with his name and when his room was literally ankle-deep with congratulatory telegrams I found him a prey to the blackest depression." It also contains a rather memorable scene involving a dish of oranges, a carafe of water, and

Watson's understanding disposition.
The current story is "The Resident Patient," a story which begins with a quiet walk through London and ends with yet another case in which the Great Detective misses out on bringing his quarry to justice because of a shipwreck.
Check out my
Twitter feed
for a daily installment, although I am usually inspired to post more than once a day. And don't forget you can read through
the original canon online
.