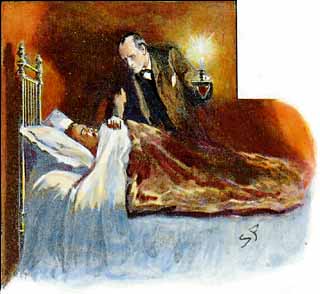 As part of an ongoing project on my Twitter feed, I'm delivering stories from the Sherlock Holmes canon in tiny installments of 140 characters or less. I recently finished up "His Last Bow: An Epilogue of Sherlock Holmes," which opens "upon the second of August – the most terrible August in the history of the world," and closes with "the last quiet talk" Sherlock Holmes and Dr. Watson may have ever had.

The current story is "The Adventure of the Abbey Grange," which finds Sherlock Holmes acting as judge, and Dr. Watson in the role of jury (but the executioner is conspicuously absent).

Check out my Twitter feed for a daily installment, although I am usually inspired to post more than once a day. And don't forget you can read through the original canon online.