As part of an ongoing project on my Twitter feed, I'm delivering stories from the Sherlock Holmes canon in tiny installments of 140 characters or less. I recently finished up
"
The Red-Headed League
," in which Sherlock Holmes investigates a seemingly irreverent case, with rather more sinister designs, and in which the Great Detective reminds the reader: "I begin to think, Watson, that I make a mistake in explaining. '
Omne ignotum pro magnifico
,' you know, and my poor little reputation, such as it is, will suffer shipwreck if I am so candid."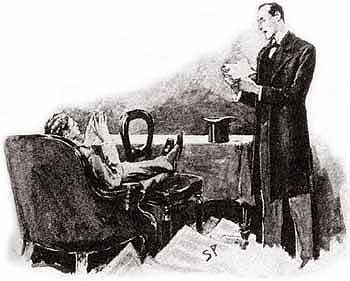 The current story is "The Adventure of the Noble Bachelor," in which Sherlock Holmes professes his affinity for all things American: "It is always a joy to meet an American, Mr. Moulton, for I am one of those who believe that the folly of a monarch and the blundering of a minister in far-gone years will not prevent our children from being some day citizens of the same world-wide country under a flag which shall be a quartering of the Union Jack with the Stars and Stripes."
Check out my Twitter feed for a daily installment, although I am usually inspired to post more than once a day. And don't forget you can read through the original canon online.