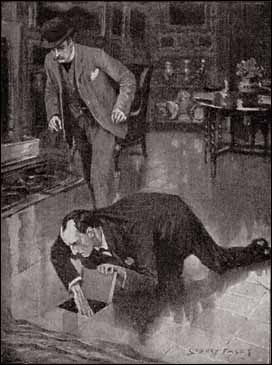 As part of an ongoing project on my

Twitter feed

,

I'm delivering stories from the

Sherlock Holmes canon

in tiny installments of 140 characters or less. On Wednesday, I finished-up "

The

Adventure of Black Peter" and I hope everyone enjoyed the story, which takes place during 1895, one of the best years of Sherlock Holmes's career, according to Doctor Watson.
The current story is
"

The Adventure of the Second Stain

," which includes the Great Detective's famous assessment of womankind: "How can you build on such a quicksand? [A woman's] most trivial action may mean volumes, or their most extraordinary conduct may depend upon a hairpin or curling tongs."
Check out my

Twitter feed

for a daily installment, though I am usually inspired to post more than once a day. And don't forget that you can read through the original canon stories

online

.